NOTICE: IRIS Detect, industrial pedestrian detection technology is now at www.seensafety.com.www.seensafety.com
NO HUNT IS WORTH SOMEONE'S LIFE
In a perfect world, every hunter would get home safely. But in spite of everyone's best intentions, every year a hunter is shot and killed by his mate. Hunter Safety Lab is dedicated to preventing these tragedies. OUR MISSION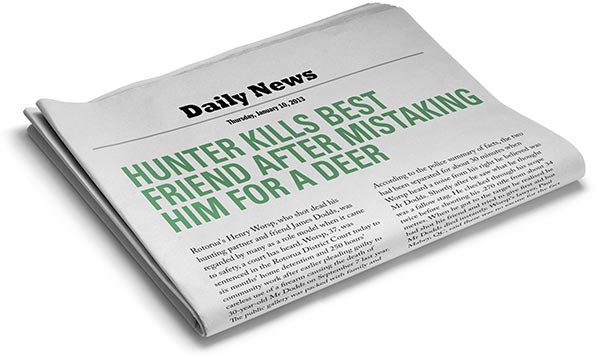 IRIS HUNTER PROTECTION TECHNOLOGY
IRIS is a simple, award-winning technology designed to prevent mistaken-for-game hunting accidents. The IRIS sensor warns a hunter if they mistakenly target the person they're hunting with, or anyone else wearing IRIS-detectable gear.
80% shot by mate
In New Zealand, 80% of mistaken-for-game hunting accident victims are shot by someone from their own hunting party. What's more, many victims are wearing blaze-orange when they're shot. No-one thinks it would happen to then, but it happens every year, even to very experienced, responsible hunters.
NEW INSIGHT ON THE CAUSES OF HUNTING ACCIDENTS
Why do respected, experienced hunters sometimes make fatal mistakes? Learn how heuristics and cognitive bias can cause any hunter to make a fatal error. Download the research report "Mistaken-for-game hunting accidents-a human factors review" (PDF 0.9mb) to find out why many mistaken-for-game hunting accidents aren't about negligence, they're about basic human error.
CLOSE THE GAP
Over the past decade, the steady improvement in hunting accident statistics has flat-lined. This indicates that although hunter-education and hunter-orange are doing a great job at keeping the accident rate down, they have reached the limits of their effectiveness. In spite of best intentions, the reality is that people make mistakes, and these mistakes sometimes have tragic consequences.